News and Events
---
Happy New Year - 2011
Save the Date - February 4th, 2011 - 9:00pm to 1:00am
The Nailers will be performing at Cullens Live on Friday, Feb. 4 from 9:00 p.m. to 1:00 a.m. and we want to see those of you from the Sam Rayburn Class of 1978 there!! The 1977, 1979 and 1980 grads are inviting their classmates to attend, too. (Of course, other classes and schools are welcome).
If you have never heard the Nailers, they are an awesome band that plays the music we grew up with. Rusty Gibson plays bass for the band and is a Rayburn alumni.
Hope you can attend this Rayburn Class Bash!!! You can RSVP on Facebook or just show up! Cullens is located at 11500 Space Center Blvd. on the Pasadena/Clear Lake border.
Don't miss this opportunity to hear some great music and visit with old friends!!

Sam Rayburn High School Alumni on Facebook
---
Sam Rayburn 1978 News - Updated September 7, 2009
The Class of 1978 50th Birthday Party held last night was a success! I'm sure everyone had a great time.
We'd like to thank the Moose Lodge, Busters BBQ and Billy Pope and the Fantastics for a night to remember.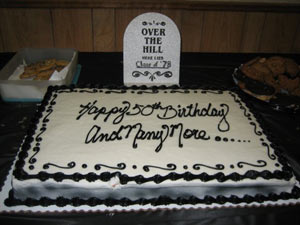 ---
The Sam Rayburn 1978 Reunion last year was a huge success...
To Darlene and the Committee: Thank you again for a great reunion. All of you did a wonderful job and I sincerely appreciate you taking time from your busy lives to put this thing together. I enjoyed Friday night immensly and am looking forward to the next one.

Thank you again. George Crowson
I agree with George's feedback. You guys did a great job. The venue was perfect. The decorations were fabulous on Saturday night! The food was perfect. The awards were well handled and appropriate. The schedule was just right. I couldn't have been more impressed with the work of my classmates nor more grateful. Thanks for the hard work you guys put in. I had a great time.

Cindy Marion
Just wanted to thank the committee for all their hard work. The reunion was a blast and a tremendous success! De Vonn and I had a great time and are looking forward to the pictures and the next get-together. Thanks Again,

Don A. Clark